Posts for: January, 2018
By Fantastic Smiles
January 18, 2018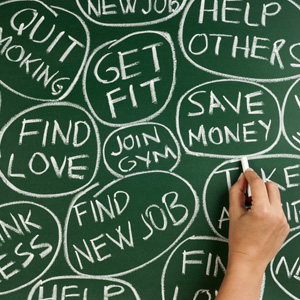 Did you make any New Year's resolutions this year? For many of us, these pledges reflect a sincere desire for self-improvement—whether it's in terms of our career, our personal lives, or our health. Yet it isn't always possible to keep every promise we make…and while exercising every day and cutting out desserts are worthwhile goals, they may also be very difficult to maintain. Fortunately, when you resolve to improve your oral health, there are some simple things you can do to help keep your smile looking healthy and bright.
Get Into the Oral Hygiene Habit
Got a minute? How about two minutes, twice a day? If so, you have time to brush your teeth properly. According to the American Dental Association (ADA), brushing twice daily with a soft-bristled brush that fits comfortably in your mouth—and replacing that brush every three to four months—is essential to good oral hygiene. The ADA also recommends flossing once a day to clean all the places where your brush can't reach—like in between teeth and under the gum line. Brushing and flossing are the best ways to maintain good oral hygiene at home.
Think Before You Drink
Here's another way to make a big difference in your oral health: Pass up those sugary and acidic drinks, and choose plain, refreshing water instead. We're talking about regular and diet soda, as well as fruit juice and those so-called "sports" or "energy" drinks. The sugar and acid in these drinks can spell disaster for your teeth: Sugar promotes the growth of bacteria that can cause tooth decay, while acid softens the hard enamel covering of your teeth, allowing cavities to get started. Water, on the other hand, satisfies your body's need for hydration without adding calories or harmful ingredients. That what makes it the best drink for your diet—and your oral health.
See Your Dentist Regularly
There are some jobs best left to the pros—like removing the hardened deposits called "tartar" from your teeth, and checking for tooth decay, gum disease and other oral health problems. We'll take care of all that at your routine dental checkup. Plus, you'll get a thorough cleaning and a chance to "brush up" on oral hygiene techniques that can help you keep your mouth healthy throughout the year.
If you have questions about improving your oral hygiene, please contact our office or schedule a consultation. You can learn more in the Dear Doctor magazine articles "Daily Oral Hygiene" and "Think Before You Drink."
By Fantastic Smiles
January 03, 2018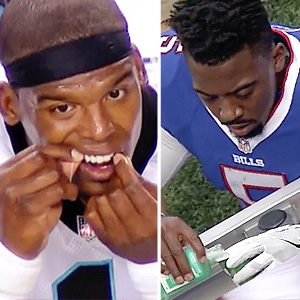 Everyone knows that in the game of football, quarterbacks are looked up to as team leaders. That's why we're so pleased to see some NFL QB's setting great examples of… wait for it… excellent oral hygiene.
First, at the 2016 season opener against the Broncos, Cam Newton of the Carolina Panthers was spotted on the bench; in his hands was a strand of dental floss. In between plays, the 2105 MVP was observed giving his hard-to-reach tooth surfaces a good cleaning with the floss.
Later, Buffalo Bills QB Tyrod Taylor was seen on the sideline of a game against the 49ers — with a bottle of mouthwash. Taylor took a swig, swished it around his mouth for a minute, and spit it out. Was he trying to make his breath fresher in the huddle when he called out plays?
Maybe… but in fact, a good mouthrinse can be much more than a short-lived breath freshener.
Cosmetic rinses can leave your breath with a minty taste or pleasant smell — but the sensation is only temporary. And while there's nothing wrong with having good-smelling breath, using a cosmetic mouthwash doesn't improve your oral hygiene — in fact, it can actually mask odors that may indicate a problem, such as tooth decay or gum disease.
Using a therapeutic mouthrinse, however, can actually enhance your oral health. Many commonly available therapeutic rinses contain anti-cariogenic (cavity-fighting) ingredients, such as fluoride; these can help prevent tooth decay and cavity formation by strengthening tooth enamel. Others contain antibacterial ingredients; these can help control the harmful oral bacteria found in plaque — the sticky film that can build up on your teeth in between cleanings. Some antibacterial mouthrinses are available over-the-counter, while others are prescription-only. When used along with brushing and flossing, they can reduce gum disease (gingivitis) and promote good oral health.
So why did Taylor rinse? His coach Rex Ryan later explained that he was cleaning out his mouth after a hard hit, which may have caused some bleeding. Ryan also noted, "He [Taylor] does have the best smelling breath in the league for any quarterback." The coach didn't explain how he knows that — but never mind. The takeaway is that a cosmetic rinse may be OK for a quick fix — but when it comes to good oral hygiene, using a therapeutic mouthrinse as a part of your daily routine (along with flossing and brushing) can really step up your game.
If you would like more information about mouthrinses and oral hygiene, contact us or schedule a consultation.